K-type milling vise KV-4/KV-5/KV-6/KV-8
Product No.:KV-4/KV-5/KV-6/KV-8
K-type milling vise KV-4/KV-5/KV-6/KV-8
K-type milling vise's features:

It is a practical piece of equipment with excellent precision and a high quality finished.
Body, movable jaw and swivel base made of closes-grained high tensile iron castings.Built for heavy duty machining and retained accuracy.
Jaw plates were made of hardened and grounded tool steel.
It's the most suitable for miling,drilling and grinding.
Accurace within 0.02MM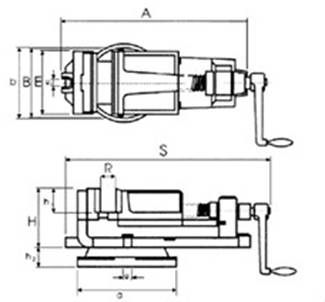 K-type milling vise's specification:

| | | | | | | | | | | | | | |
| --- | --- | --- | --- | --- | --- | --- | --- | --- | --- | --- | --- | --- | --- |
| Model | E | A | B | H | R | S | a | b | h1 | h2 | g1 | g2 | Weight |
| KV-4 | 100 | 267 | 106 | 75 | 65 | 295 | 160 | 114 | 30 | 30 | 30 | 30 | 10kg |
| KV-5 | 125 | 340 | 130 | 99 | 80 | 400 | 210 | 155 | 38 | 38 | 38 | 38 | 17kg |
| KV-6 | 150 | 421 | 160 | 105 | 114 | 462 | 245 | 175 | 40 | 40 | 40 | 40 | 27kg |
| KV-8 | 200 | 576 | 215 | 144 | 150 | 620 | 340 | 230 | 58 | 58 | 58 | 58 | 46kg |
Operation Vedio