Home

>>

Product

>>

Lathe Tool post grinderTR-125
Product name : Lathe Tool post grinderTR-125


---

Model Number : TR-125


---

---

---
Description:
Lathe tool post grinder TR-125

Features
Both the main shafts have been specially designed, and the world wide precision bearing is used to fit the main shafts which are made of alloy steel heat-treated for wear resistance, high precision. as well as maintaining to the lowest temperature for durability and stability.
The motor base and the spindle bushing are adjustable.
The motor is well designed with a special and nice appearance. The RMP of this motor varies depending on the size of the work piece.
This grinder is capable of grinding the work piece to a minimuin of 3mm in outer diameter and from 2mm up in inner diameter(bore) with the accuracy within 0.003mm and a weel finished surface(supplied with special attachments)
The spindle bushing is made of cost iron,and supported by three surfaces.Therefore, it is durable and elastic.
Materials such as steel, iron,copper, alummum,cast iron, plastics, procelain, marble, regardless of being heat treated or not, can be grind on this machine which functions lie a cylindrical grinder.So it may lower the cost of the production.

Specification

| | |
| --- | --- |
| Speicication | Lathe tool post grinder |
| Internal grinding spindle | 25*16*6mm |
| Grinding depth | 3-90mm |
| Installation dimension(center hole) | 25*40mm |
| Wheel diameter size | 125*32*20mm |
| Diameter | 32mm |
| Voltage | 220V/380V |
| Horse power | 750W 50HZ |
| Speed(outer) | 1400RPM |
| Speed(inner) | 12000RPM |
cylindrical grinding



Inner hole grinding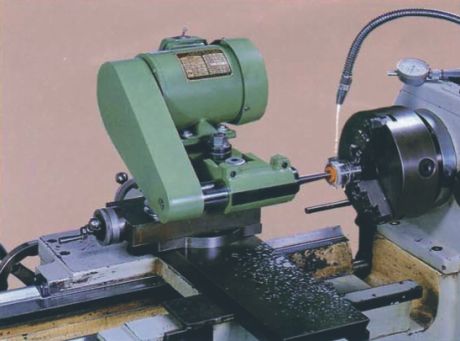 Related Products :