Tilting Hydraulic Machine Vise

Features:
1. Ruggedly constructed for milling, drilling, shaping, grinding and many other machine shop applications.
2. Body is made of high quality ductile cast iron, resists deflection or bending.
3. Sliding bed ways flame hardened and ground.
4. Concealed spindle for protection against chips and dirt.
5. Angles can be set in three dimension
6. The 360 turnable base is graduated in degrees.
7.The vise can be elevated through 90 from the hotizontal to the vertical position, and it can also be tilted on its lower angle setting base up to 45 in the both the left and right directions.
8. The vise can be securely locked in all of its three settings.
9. Accrue within 0.01mm.
10. Furnished with or without swivel base.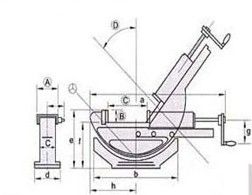 Specification

| | | | | | | | | | | | | | | |
| --- | --- | --- | --- | --- | --- | --- | --- | --- | --- | --- | --- | --- | --- | --- |
| Model | A | B | C | D | a | b | c | d | e | f | g | h | Clamp force(Kg) | G.W(Kg) |
| 4" | 100 | 36 | 170 | 50° | 505 | 325 | 65 | 160 | 177 | 141 | 80 | 170 | 2500 | 33.3 |
| 6" | 150 | 51 | 300 | 50° | 775 | 410 | 95 | 240 | 237 | 186 | 100 | 200 | 4500 | 88 |