Home

>>

Product

>>

Universal dividing head
Product name : Universal dividing head


---

Model Number : F11


---

---

---
Description:
The universal dividing head,Type F11100A,F11160A is one of the most important attachmenet for milling machine.With the help of this dividing head the workpiece held between centers,or on a chuck can be rotate to any angle as desired and the periphery of a workpiece can be divided into any divisions of equal parts.By means of all kinds of cutters,the dividing head can also help milling machine to perform the milling operation for flute spir gear,spiral gear,spiral flute,Archimedean cam,helical flute and etc.
The dividing head is equipped with a face plate that can be mounted onto the spindle nose.The workpiece can be mounted on the face plate,thus,cutting can be carried out on 4-sides of a workpiece.
F11125C F11160C is designed for the consumers special needed,the shafting is improved to support heavy load.
The universal dividing head,type F11100AL,F11125AL,f11160AL is the same as of the structures and the opreation handle is setted on the left.
specification
Item

F11100A

F11125A

F11160A

F11200A

Center hight mm

100

125

160

200

Swivel angle of spindle from it's horizontal posirion(upward)

≤95°

Horizontal position(downward)

≤5°

Rotating angle of spindle for one complete revolution
of dividing handle

9°(540grad.,1' each)

Min reading of vernier

10"

Worm gear ratio

1:40

Taper of spindle bore

MT3

MT4

Width of locating key.mm

14

18

Diameter of short taper of spindlenose for mounting flange mm

Φ41.275

Φ53.975

Φ53.975

Φ53.975

Hole number on index plate

1st plate

24,25,28,30,34,37,38,39,41,42,43

2nd plate

46,47,49,51,53,54,57,58,59,62,66

Change Gear

Module

1.5

2

Teht Numbers

2.5,30,35,40,50,55,60,70,80,90,100

Individual indexing error of the spindle for one
complete revolution of dividing handle

±45"

Cumulate error at any 1/4 periphery of spindle

±1"

Max bearing Kg

100

130

130

130

Net weight Kg

67

101.5

113

130

Gross weight Kg

79

111.5

123

140

Overall dimensions mm

616×465×265

635×530×530

710×535×342

710×535×342
F11 DIMENSIONAL SKETCH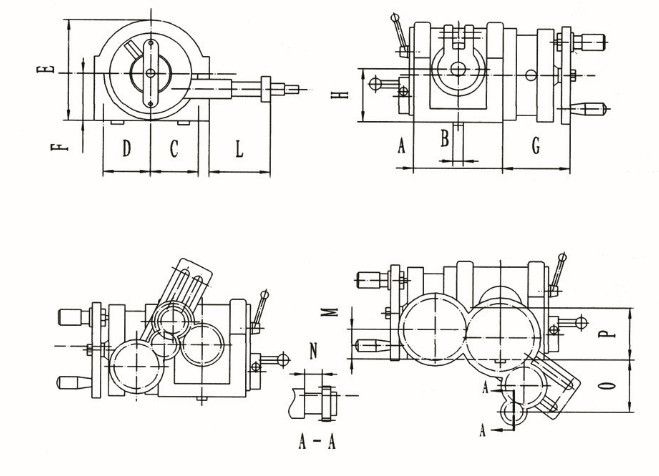 F11 Installation sketch and dimensions:
A

B

C

D

E

F

G

H

L

M

N

O

P

F11100A

162

14

102

87

186

95

116

100

93

54.7

30

100

100

F11125A

209

18

116

98

224

117

120

125

103

68.5

34.5

100

125

F11160A

209

18

116

98

259

152

120

160

103

68.5

34.5

100

160

F11200A

209

18

116

98

299

192

120

200

103

68.5

34.5

100

200

※:Accessories
Tailstock Change gear bracket Change gears Qty.12 Jack Center Dividing plate Flange 3-jaw chuck
Round table(option)
Related Products :