Home

>>

Product

>>

CNC universal cutter grinder
Product name : CNC universal cutter grinder


---

Model Number : CTG-20


---

---

---
Description:
CNC universal tool grinder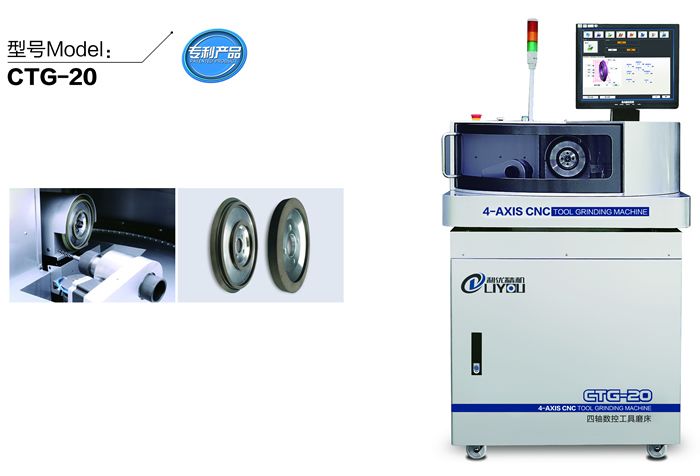 4-aixs concurrency control for NC tool regrinding machine
Product Advantages:
1.3D graphics interface, Easy to use, parameters can be modified according to the customer's requirements.
2.Independent developed four-axis linkage operation system.
3.Customer-made software functions for specific tool,meet different needs.
4.software upgrades is Simple,easily enjoy free upgrade service through USB.
5.Cooperate with slot machine,This machine can produce milling cutter and drills which can reduce the equipment investment .


Main function

Tools

End mill、Drill、Tap、 Reamer、Chamfering

Applicable

φ1.5mm~φ20mm

Tools length

35 ~ 200mm

Longest blade

90mm

material

carbide、HSS

Product parameters

Power

220V 1.1KW 50/60HZ

Dimensions

880*900*1560

Weight

350KG

Tools Detection

Contact probe detection with high precision

Cutting oil

Water-insoluble grinding oil

Rail oil

(ISO VG32)

Cutting oil pump

Maximum output flow:24L/M

Grinding wheel spindle

Motor

600W

Speed

500、3000、4000、6000

Max peripheral speed of grinding wheel

36m/S

Control shaft

stepping motor for 4 axis

Drive mode

Route

position control resolution

X axis

ball screw direct drive

300mm

0.002mm

Y axis

ball screw direct drive

130mm

0.002mm

C axis

ball screw direct drive

-5°~180°

0.002mm

A axis

ball screw direct drive

∞

0.02°
Tools applicable: the function can be made according to customer needs, only need to update software.
| | |
| --- | --- |
| End mill | |
| Main function | grind end mill, slotting, side blade, R angle&C angle mill |
| flutes | 2、3、4 |
| Helix angle | 0°~60° |
| relief angle | 1°~12° |
| second relief angle | 11°~20° |
| inclination angle | 0°~5° |
| front angle | 0°~5° |
| Reamer | |
| Main function | Grind guide blade,side blade and end blade of direct blade&screw reamer |
| Groove | 4 、6、8 |
| Helix angle | -20°~30° |
| Relief angle | 2°~10° |
| Length of guide blade | 0.1~2mm |
| Apex angle of guide blade | 20°~45° |
| Relief angle | 3°~20° |
| Drill | |
| Main function | grind the cutting edge, chisel edge,chisel edge R angle, cutting edge C angle of plate&cone drills |
| Drill flutes | 2、3 |
| Helix angle | 0°~45° |
| Apex angle | 60°~180° |
| Relief angle | 0°~15° |
| Second relief angle | 11°~40° |
| Redial angle | 5°~65° |
| Chamfer angle | 25°~80° |
| Chamfer width | 0.05~6mm |
| Tap | |
| Main function | Grind front guide blade, end and front cone of direct blade tap&screw tap |
| Groove | 2、3、4 |
| Helix angle | -20°~45° |
| relief angle | 2°~10° |
| Chamfering | |
| Main function | grind cutting blade, slotting and end blade |
| Flutes | 2、3、4、6 |
| Apex angle | 60°~150° |
| Relief angle | 1°~10° |
Related Products :